25-METER OUTDOOR SWIMMING POOL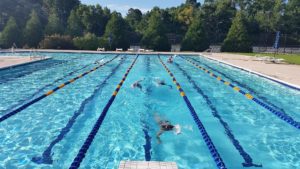 WestSide Athletic Club's outdoor swimming complex includes a 25 meter pool with swimming lanes, dressing facilities with showers, Wi-Fi connection, and a snack bar serving snacks as well as beer and wine.  The pool is open during club hours Memorial Day through September. Children 14 years and under must be accompanied by an adult. We welcome non-members for a daily fee of $10 per adult guest with full member, $5 per under 14 guest with full member, adult guest without member $20 per day each – call the club for large group prices and weekly guest fees.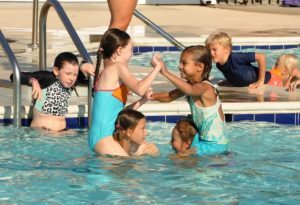 Swimming Facility Rental
Arrangements can be made to rent the facility for pool parties or special events. Have a party at WestSide! $150 – up to 10 guests, $175 – up to 20 guests, $200 – up to 30 guests. Additional fee for lifeguard. Alcoholic beverages must be purchased through WestSide for all parties. Please note, the pool will not be closed to other members during your party. Email us or call 252-491-8626 for full details.
Swim Lessons
Swim Lessons are available with OBX Swim Academy, Haley Bartolotta and Michelle Wagner.
Group Lessons run Monday – Thursday with rain day on Friday if needed. Lessons run about 45 min and students are grouped by age and level for the best experience.  Group rates are $60/4 lessons for members and $80/4 lessons for non-members.  Call the club to schedule lessons.  Private lessons available for additional fee.
Swim Workouts
25-meter pool with swim lanes for your swim workout.  Talk to our manager about bringing your team over for practices.